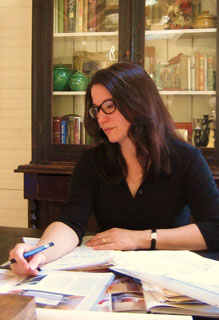 Laila Tallon became interested in interior design at the ripe age of nine. Remodeling Barbie's Dream House was an innocent beginning which, in later years, led her to work on movie sets. She then became inspired and set out to finally realize her dream.
Tallon returned to college to study architecture and interior design at Kwantlen Polytechnic University. She spent several years designing in Canada and the United States for IKEA, various kitchen and bath design studios, and decades designing residential interior spaces from lofts to boats.
Whether it involves gutting and re-designing interior spaces or merely replacing a front door, she believes that interior design should be a balance of combining form and function. The interior of a space should blend harmoniously with the landscape to form a single actuality.
Tallon is influenced by such architects as John Lautner, Richard Neutra, Rudolph Schindler, Robert Byrd; Interior designers Jacques Grange, Victoria Hagen, David Easton and landscape architect Nancy Goslee Power. She also draws inspiration from nature, paintings, fabrics, books, films and travel.
She has relocated from Los Angeles and now lives in the Central Coast of California.